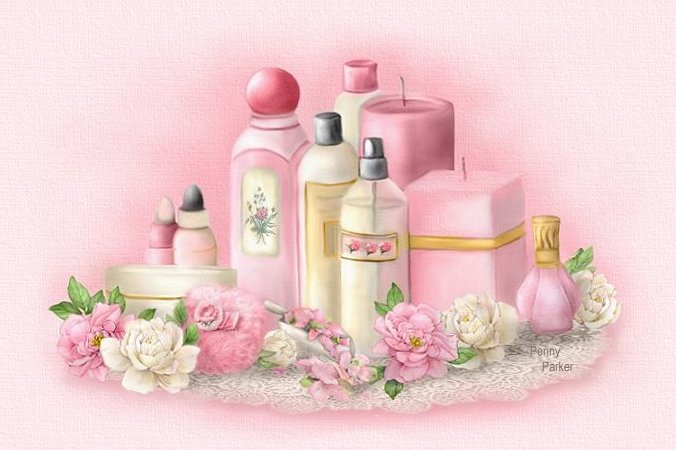 Welcome to Sue's Lavish Lotions




I am happy to share
some of my special lotions

Friends and family have
been using my skin lotions for a long
time so I decided to offer them to others
who may have problems with commercial
products. All ingredients are hypo-allergenic and
are listed on the label. They are water resistant
and can stand up to several hand washings.
I'm offering assorted scents,
some have MSM for pain, and some
have Colloidal Silver in them.

Shown below is the Tropical Getaway gift set.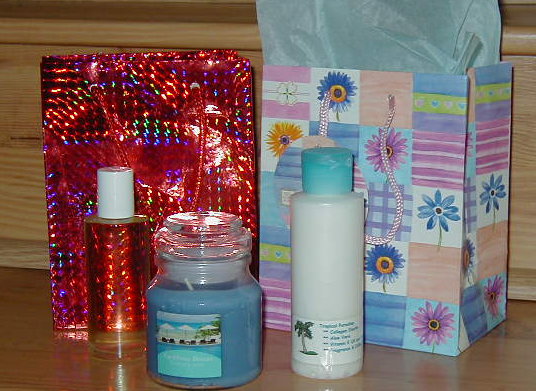 I hope you enjoy them as I do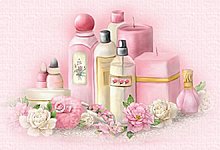 You Can order pre-made gift sets, or buy bulk and
make your own gift baskets, I love "feel good" pampering baskets,
includes lotions, candles, oils, and special coffees or teas
that I make, I can let you mix and
match at very reasonably prices.
Be sure to look at my jewelry page, too.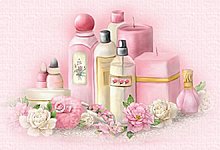 Check out my newest items

Made with Love
with a
Built in Hug!



Comfy Cozies Shrugs

Comfy Cozies
Magnetic
Beads and Bracelets






Please come back often, as this is a work in progress
I plan to add items as I make them.



Gift sets can be special ordered and sent to the address you specify.
Gift Sets currently offered are:
Pretty Peach
Lavender Lullaby
Tropical Paradise
The sets contain body lotion, scented oil, and a candle.
(Massage oil and candles are subject to availability).
Special orders can also be made for
the man in your life in a clean scent
that softens and soothes rough, manly hands.
More scents offered







Almond Vanilla Bliss-MSM
Raspberry Sensation-MSM
For Men - Collidial Silver
Pretty Peach MSM or Collidial Silver
Lavender Lullaby-MSM OR Collidial Silver
Melon Mania - MSM
Sunny Orange- MSM (sold Out)
Caribbean Breeze - MSM (sold out)
Tingle Toes Foot Rub (Peppermint) Collidial Silver
sold out scents will be re -made as I get supplies

Prices range from $10.00 to $20.00
Email me for customized sets
Ask me about special MSM lotions

Confirmations are coming in on the MSM Lotions
What some users have to say
Thursday and Friday night, Karen and I both used the hot pack on
our necks-worked like a charm! I've been using
the peach MSM cream on it too. It DOES help! I think
I told you I have a protruded disc
in my neck. Karen used her cream
on her knee, because she twisted it while
we were in Cleveland. She said it really
helped her pain. That stuff is magic! thanks,
Deb D Arizona

My mom officially LOVES the MSM lotion. She has been using that peppermint lotion on her
feet every night. She loves it. And I used the MSM lotion on my hands and wrists
and it works great. I also used it on my mom's shoulders
and neck and it helped her pain also. My uncle used to use dmso, I'm going to have to buy him a bottle of this lotion!
Mom pulled her back out really bad lifting
something heavy, so I massaged her back with it, and she said it helped a lot!! Not that I could massage,
long, my hands have been hurting a lot latey. But
the lotion always helpsthat quite a bit too.
April J.


Thank you for your MSM lotion! I really
like the cream. It does help to reduce my discomfort
to tolerable levels. I shared some with my neighbor
who had a hip replacement earlier this year and
still experiences some pain. She said it helped her too!
Judy E







I have been using Sue's lotion for some time now.
I love them! My skin just drinks it up. She
has a expensive ingredient called collidial silver. Good
for the healing the skin.
Also I have her MSM lotion for pain. So much better than
what you can buy over the counter. because it helps, me!
You should try a little bottle, and see for yourself. Only
takes a "little bit " on the area that is bothering you.
I have sampled her butter too. Yummy!
All made with love, for sure........
Hope you will try some.
Nurse Nancy, FLA.

Sue, used your collidial silver lotion, and its wonderful. My hands
were a mess after an afternoon of yard work. The lotion sure
made them feel better. Its one of the only lotions
I've used thats still there in a few
minutes, and doesn't wash off.Thanks.
Nancy H. from Iowa

I just wanted to pop in and let people know just how awesome Sue's lotions are.
I have been using them for a couple years now and would NOT want to be without them.
I react very strongly to bug bites, especially skeeter bites. One bite can leave a
swollen area about 3 inches square or more.
If I get bit a couple times my whole arm can swell
up and you can feel the heat radiating. It can literally
itch for days! Not fun, living in Minnesota, reacting to
skeeter bites that way. Sue' lotion with colloidal silver and MSM save
the day for me!
Recently I was in Ohio with a friend and he
was stunned to see how badly my arm swelled up
after getting 4 or 5 skeeter bites...and he was equally
stunned to see how quickly it went away
after using her lotion. It took only a few minutes for the
swelling and redness to disappear and the itch went away immediately.
I also react pretty strongly to stinging nettles and her lotion has saved the day there, too!
God bless!
Kas 9-20-09

Thank you Sue! after five yrs using your lotions, it
is the only thing that helps with my arthritis
pain and muscle aches. I just had both knees replaced
and I keep a bottle of your lotion by the bed as
it also helps me sleep. All I can say it
THANK YOU!
Connie Gurkin, Dec.12, 2014

May you be Embraced by an Angel today!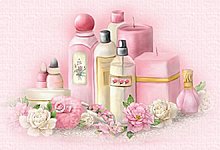 Disclaimer
: Please note that the use of any of my skin lotions
or herbal tinctures are done solely at your own risk
and discretion and I cannot assume any responsibility for
your usage of said products. I can only say that
many friends and family have been
thrilled with my products. I make no claims of any sort.
I will gladly disclose all ingredients in my products.
For the tinctures, please use your
favorite search engine and order after doing your own research.










My latest Crafts

Midi by Margi Harrell
from original copyrighted song called Wonderful World
Not all browsers support the midis
Back to